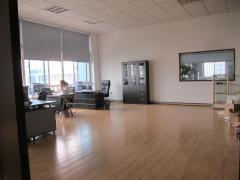 Xinhuixiong hardware was founded in 2011, it specializes in producing steel strip springs (SSS) although it also manufactures conventional wire springs, wire forms, four-slides, stamping components, machinings, plastic injection parts, etc.
XHX factory covers an area of 2, 500 square meters, owns 21 production lines, and has a crew of 65, 12 of which are R&D staff, 5 are QCs. XHX passed ISO9001 quality system certification in August, 2012.
Since founders are all top elites in this spring industry, the advantage has been with magnificent technique stronger than similar competitors, as a result, XHX acquired its two largest US clients by successfully making samples satisfying them after two famous spring factories failed. Even up to now XHX is always day-and-night busy producing orders from those two clients.
XHX's main products, i. e., steel strip springs, can be simply divided into two ranges, constant & variable force springs, which can be used in/on shelf display pushers, motor carbon brushes, retractable dog/pet leashes, display monitors, car seat adjusters, etc.
The steel strip springs are widely used on electronics products, home appliances, communication, bath wares, medical equipment, gym facilities, display fixtures, machinery and sports ware etc. XHX sells spring to Panasonic, Longking, EasePAL within China, and exports to USA, Germany, UK, Netherlands, Egypt and Iran.
Certainly XHX also manufactures conventional spring manufacture such as extension/compression/torsion/die/wave springs. In fact, conventional spring orders take an equal proportion with steel strip springs.
Currently XHX has an annual turnover of 3.5 million USD, about a quarter to one third of which is export proportion. Actually, even those products we don't export directly are specially made mostly for the suppliers of international customers.
Thanks to its spings' advanced technique, splendid performance and satisfying quality, XHX has a large number of famous customers whose names are not permitted to reveal, which should be a pity. Also thanks to those customers' support XHX are busy growing on its way to a higher stage.